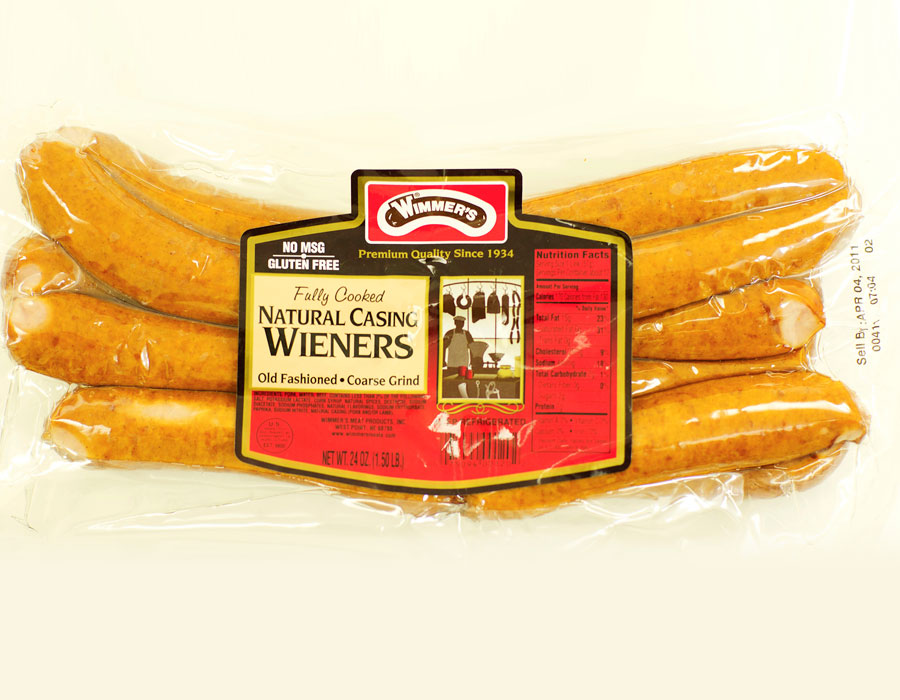 The old-fashioned coarse ground texture along with just the right spices makes this a special treat.
Freezing/Refrigerated Wieners should be refrigerated at 40° F. or lower.
Cooking Instructions All Wimmer's wieners are fully cooked, but may taste better when heated.

To Simmer: Place wieners in boiling water, cover and simmer 5 to 10 minutes until thoroughly heated. Do not boil.

To Grill: Brown lightly over low coals, use care to not split casings.
Pork, Water, Beef, Contains Less Than 2% Of The Following: Salt, Potassium Lactate, Corn Syrup, Natural Spices, Dextrose, Sodium Diacetate, Sodium Phosphates, Natural Flavorings, Sodium Erythorbate, Paprika, Sodium Nitrite, Natural Casing (Pork and/or Lamb).
Serving Size: 1 Link
Servings per Package: 12
Calories: 170
Calories from Fat: 130
Total Fat: 15g – 23%
Saturated Fat: 6g – 31%
Cholesterol: 25mg – 9%
Sodium: 440mg – 18%
Total Carbohydrates: 2g – 0%
Sugars: 2g
Protein: 7g
Iron: 10%
Calcium: 0%
Dietary Fiber: 0g – 0%
Vitamin A: 0%
Vitamin C: 0%
*Percent daily values are based on a 2,000 calorie diet.