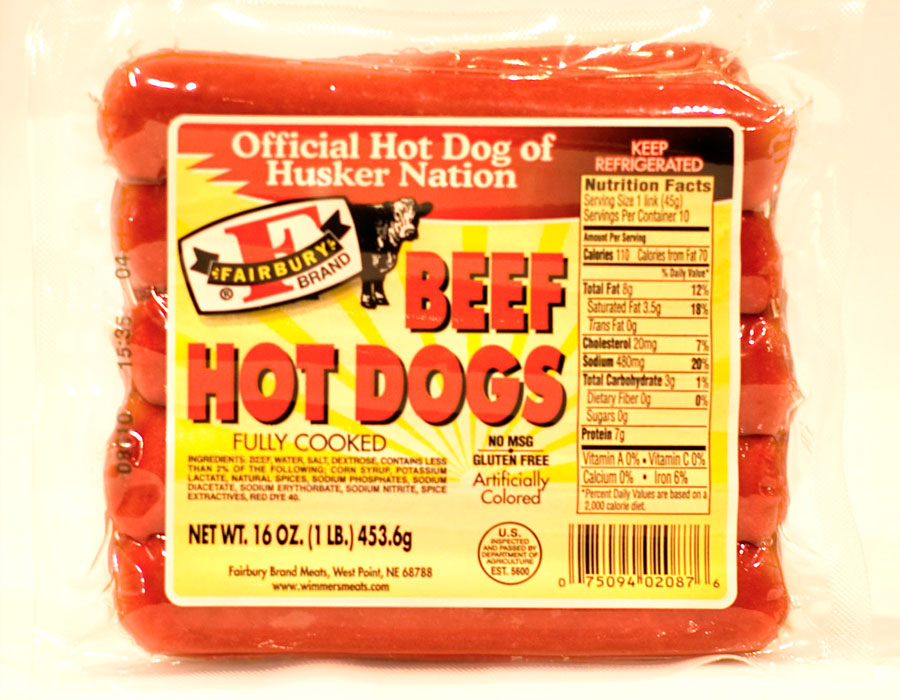 All Beef – great tasting hot dogs with the same popular Fairbury Brand flavor.
Freezing/Refrigerated Keep Refrigerated.
Cooking Instructions To steam hot dogs, bring a pan of water or beer to a boil. Remove the pan from heat and add hot dogs. Cover the pan and let it stand 10-15 minutes. Hot dogs also can be baked in casserole dish, microwaved, grilled or pan-fried.
Beef, Water, Salt, Dextrose, Contains Less Than 2% of the following: Corn Syrup, Potassium Lactate, Natural Spices, Sodium Phosphates, Sodium Diacetate, Sodium Erythorbate, Sodium Nitrite, Spice Extractives, Red Dye 40.
Serving Size: 1 Link
Servings per Container: 10
Calories: 110
Calories from Fat: 70
Calories from Trans Fat:
Total Fat: 8g – 12%
Saturated Fat: 3.5g – 18%
Cholesterol: 20mg – 7%
Sodium: 480mg – 20%
Total Carbohydrates: 3g – 1%
Sugars: 0g
Protein: 7g
Iron: 6%
Calcium: 0%
Dietary Fiber: 0g – 0%
Vitamin A: 0%
Vitamin C: 0%
*Percent daily values are based on a 2,000 calorie diet.