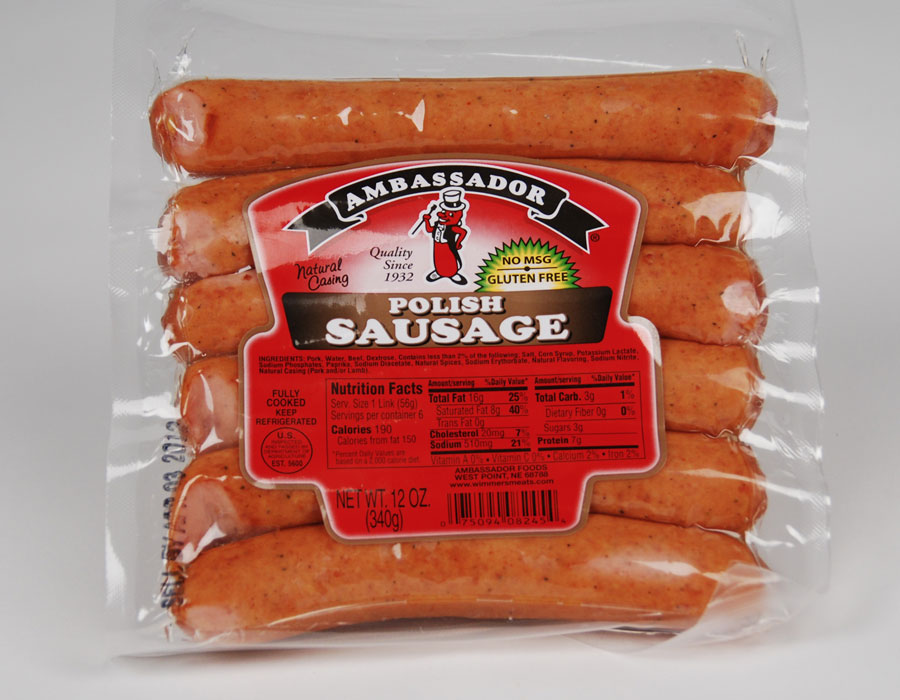 A traditional pork and beef meat mixture blended with snappy natural spices. It's coarsely chopped, heavily smoked and fully cooked.
Freezing/Refrigerated Sausages should be refrigerated at 40° F. or lower.
Cooking Instructions All Ambassador sausages are fully cooked, but may taste better when heated.

To Simmer: Place sausages in boiling water, cover and simmer 5 to 10 minutes until thoroughly heated. Do not boil.

To Grill: Brown lightly over low coals, use care to not split casings.
Pork, Water, Beef, Dextrose, Contains Less Than 2% of the following: Salt, Corn Syrup, Potassium Lactate, Sodium Phosphates, Paprika, Sodium Diacetate, Natural Spices, Sodium Erythorbate, Natural Flavorings, Sodium Nitrite, Natural Casing (Pork and/or Lamb).
Serving Size: 1 Link
Servings per Container: 6
Calories: 190
Calories from Fat: 150
Total Fat: 16g – 25%
Saturated Fat: 8g – 40%
Cholesterol: 20mg – 7%
Sodium: 510mg – 21%
Total Carbohydrates: 3g – 1%
Sugars: 3g
Protein: 7g
Iron: 2%
Calcium: 2%
Dietary Fiber: 0g – 0%
Vitamin A: 0%
Vitamin C: 0%
*Percent daily values are based on a 2,000 calorie diet.